No matter you are a new business owner looking for flexible business phone system (main office, home office, virtual office, etc), or an existing business looking for VoIP to save some expenses and improve business flexibilities, we have a good news for you !!!

With our reliable and cost saving Hosted PBX business phone system service, we now also provide you with IP Phone equipment with no extra cost

(Saving: MSRP $255 per phone)

.




Monthly Cost Summary




Monthly Cost per user:

C$19.99 / user per month

IP Phone:

C$255 / phone

INCLUDED 1 per user

Setup Fee:

C$60 / phone

INCLUDED 1 per user

Number Porting:

FREE

Other Fee:

None

Term Contract:

2 years

Trial Period:

7 days (if you do not like our service, we offer complete refund within this period).

Total per month:

C$19.99 / user per month.




Initial Cost



To eligible into our free phone equipment offer, we required a

prepaid of total initial fee equals to 6 months of the monthly cost

(example: 1 user x 6 months = Initial Cost of C$119.94 + Applicable TAX). This initial amount (exclude TAX) will be remain

as credits and will auto apply to your upcoming monthly payments, until all credits are used

. If you don't like our service and cancel within the trial period (with all equipments returned), this amount will refund back to you.




Monthly Service includes?



The monthly service (1 user) includes: 1x Canada + US48 phone channel, 1x IP Phone Access, 1x Canada / Toll Free phone number, and our Hosted PBX features (ie. Auto Attendant, Internal Extension Calling, Internal Call Transfer, Call Park, Music / Advertisement on hold, voicemail to email, and more). Please click here to learn more about our Hosted PBX and Virtual Office Features.




What phone is included?



To deliver modern style with business reliability, the following is the IP phone model(s) we are currently offering.


SNOM D717 Business IP Desk Phone



High-Resolution 2.7 inch TFT Color Display
3 lines for easy switch between calls
Include Giga Network Switch to share internet with Desktop / Laptop
Connectable (Wired) to external headset (RJ9 Connector)
HD Audio





Additional Accessories Provided (not include in original phone package)





AC Adapter
WIFI Dongle (Support 2.4G/5G Band. Available on request only)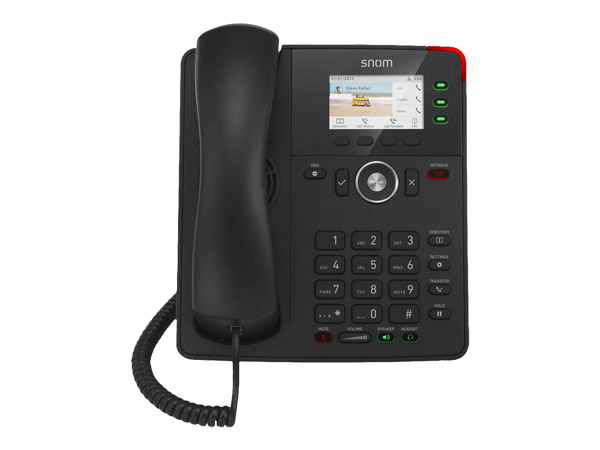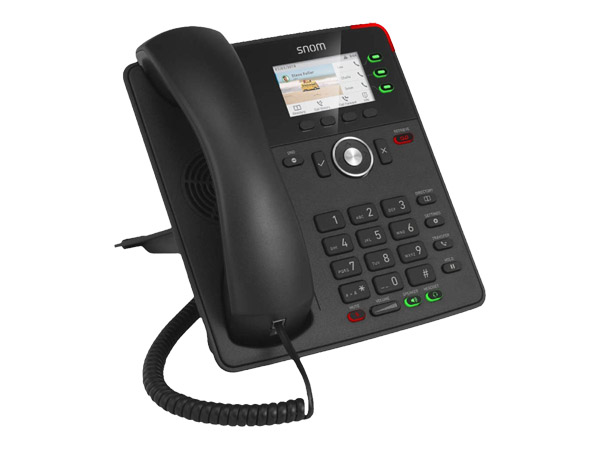 Initial Setup



Once your order is confirmed, we will help you to ensure your initial setup is smooth and is what you want. This will include the extension you wish to setup, each Phone connectivity setup, and the auto attendant you wish to use for your business. If you have a number you wish to port to us, we will also work with you to ensure your transition is as smooth as possible.

If the location you wish to put your phone(s) does not have network wiring, WIFI option is available free of charge (please let us know if there are no wire connection so that we will get the WIFI version ready).

Please note: We do not provide on-site installation, all you need to do is to connect the power, then plug in the phone to the network cable, or connect to your local WIFI for wireless connection. If you experience any network issue, our technician will be happy to help via our remote support session.




Refund Policy within Trial Period



After the initial setup, if you do not like our service and cancel within the Trial Period (with all equipments returned), a full refund will be issue to ensure no risk on your side. Equipments return for full refund must be well packed within the original box with no physical damage, and must be return under resell-able condition.

Please Note: No Refund will be issue after initial Trial Period.




What is Hosted PBX Business Phone System



Simple, think about your traditional phone system placed on the cloud, this is Hosted PBX. Most of the features are similer (ie. internal extension calling / transfer, auto attendant, voicemail to email, music / advertisement on hold, external calling, call queue, etc), you no longer need the phone main PBX system in your office, and instead of using internal wire to connect to it, you use internet to connect to the service. Also because its on the cloud, you can connect from anywhere which is online (ie. single / multiple office, home, etc).

In most cases, all you need is just the IP Phone on your desk to connect to the service, which is already included in this package.

Please click here to learn more about our Hosted PBX and Virtual Office Features.




Who is Signal Canada



Signal Canada is a sub-division from SKSYS Corporation o/a BABYSOFT (based in Markham Ontario, since 2005) focus on provide Canadian small to medium size business with flexible telecommunication service. We are your neighbour and we know what you need, let us help with your business communications.

For more information about Signal Canada, please click here.




Other Notes and Conditions:




The ownership of the included phone(s) and equipment(s) (a.k.a. CPE) is remain as Signal Canada / BABYSOFT properties, customers is responsible to maintain our CPE in good conditions.

Customer is responsible to any lost, stolen, or damage equipments. In the event of the lost, stolen, or damage equipments, customer will be responsible to pay Signal Canada / BABYSOFT the full amount of equipment(s) cost.

In the event of service termination, customer must return all provided CPE to Signal Canada / BABYSOFT in good conditions, or equipment(s) charge may apply.
Sounds good? Ready to start?
Additional conditions may apply. Promotions and offers can be change at any time without notice.